In the News
Mathieu Lefevre
photo by Chieu-Anh Le Van
On October 18th, 2011, Brooklyn resident and upcoming artist Mathieu Lefevre was killed by a flatbed truck driver at the intersection of Morgan Avenue and Meserole Street. The NYPD has withheld details of the crash from the Mathieu's family, leaked mis-information to the press and failed to gather evidence at the scene.
Transportation Alternatives and City Council Member Brad Lander (D -- Brooklyn) announced they have filed Amici Curiae in support of the lawsuit filed by the family. "I was shocked to find out that only 19 detectives citywide, along with a handful of supervisors, are responsible for investigating hundreds of fatal crashes occurring in New York City each year -- and that there are literally none for thousands of non-fatal accidents that result in serious injury or paralysis," said Council Member Lander." It is time for the NYPD to tackle serious traffic crashes with the skill and determination merited by what is the number one cause of death for children ages one to twelve in our city."
Donate to the travel fund
Mat's parents, Alain and Erika Lefevre of Alberta, Canada, have vowed to uncover the truth about what happened to Mat. They have had to sue the NYPD just to have access to the records of the accident.
The legal battle continues and there are travel expenses and other costs associated with their struggle, as they live over 2500 miles away in Western Canada. We have set up a fund to accept donations to help cover their transportation expenses.
Any funds leftover will be donated to the creation of the Mathieu Lefevre Memorial Award for emerging young artists.
Monthly donations would be appreciated to cover the ongoing costs. Any amount is helpful. Thank you so much for your generosity.
Make a one time donation:
Cancel your monthly donation
For more information, please e-mail Juliana at berger.juliana@gmail.com.
Past Actions:

7th Annual Memorial Ghost Bike Ride and Walk
Ghost Bike at the corner of Morgan Ave. & Meserole Street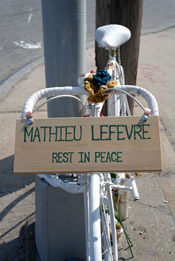 The NYC Street Memorial Project held the 7th Annual Memorial Ride and Walk on Sunday, March 18, 2012. At each location where a cyclist lost their life, this statement was read:
Today we gather in honor of the cyclists and pedestrians killed on New York City streets in the past year. In 2011, 134 pedestrians were killed by motor vehicles. Twenty-one cyclists were killed while riding their bikes. Today we ride and walk in honor of Erica Abbott, Jeffrey Axelrod, Aileen Chen, Marilyn Dershowitz, Ray Dexter, Nicolas Djandji, Christopher Doyle, Joseph Granati, Mathieu Lefevre, James Pierre, Ronald "RJ" Tillman, Luis Torres, Qi Yu Weng, Andrzei Wiesniuk, six unnamed cyclists, and the countless cyclists and pedestrians whose deaths go unreported and unrecognized every year. We ride and walk with love in our hearts, with sadness for what has been lost, with rage that these crashes did not have to happen and with hope that we never have to do this again. With these memorials we want to raise awareness about a bicyclist's right to the street and a pedestrian's right to safe passage in hope that New Yorkers can change the climate on the rode and learn to respect one another.
March 18, 2011
Seventh Annual Memorial Ride and Walk
www.ghostbikes.org
Juliana's statement at Mathieu Lefevre's ghost bike
Andrew Hinderaker Photos - 7th Annual Memorial Ride and Walk
Report from the City Council hearing
"There is breaking news from the City Council -- and it's chilling. The City Council has uncovered vast systemic flaws and widespread inadequacy in the NYPD's efforts to prevent crashes; and when crashes do occur, extensive mishandling of investigations.

Council Members Peter Vallone Jr. and James Vacca led an "Oversight Hearing on Crash Prevention Enforcement and Crash Investigations." In the packed room, survivors of crashes told stories of bungled traffic investigations and crashes that better enforcement could clearly have prevented. "
-Transportation Alternatives, Profiles of Courage

View Erika's statement
Video of Erika's statement
Demand a traffic safety task force
Report from the Rally
On November 30th, 2011, Transportation Alternatives held a rally at 1 Police Plaza, Manhattan, NY, with Mathieu's mother, Erika Lefevre, and his close friend and ex-wife, Juliana Berger, in attendance
At the rally, more than 2,650 letters were delivered to Kelly and Bloomberg demanding that dangerous drivers be held accountable for their actions. Transportation Alternatives also announced the launch of their investigation into the NYPD's lacking practices when it comes to investigating deadly cyclist and pedestrian crashes.
Erika's statement along with scans of the original police report
Transportation Alternative's letter along with some harrowing statistics about cyclists' deaths in NYC and the absences of charges filed

Stop Dangerous Driving
Transportation Alternatives organized a petition to let Commissioner Kelly and Mayor Bloomberg know that dangerous driving is more than just an accident. Between 2000 and 2009, more New Yorkers were killed by drivers than were murdered by guns. Between 2001 and 2010, 1,745 pedestrians and bicyclists have been killed in New York City traffic and 142,485 have been injured. There is nothing "accidental" about the majority of these crashes; 60 percent of fatal pedestrian and bicyclist crashes with known causes are caused by driver's dangerous and illegal behavior, according to an analysis of 80 contributing factors associated with crashes tracked by the New York State Department of Motor Vehicles.
But, in case after case, Ray Kelly's police department has failed to hold drivers accountable for their dangerous and lethal behavior. Transportation Alternatives' Vision Zero NYC calls upon the Mayor's Office to rally City agencies to develop a comprehensive plan to reduce citywide traffic deaths and serious injuries to zero.
The Memorial Fund
Over 150 people donated to the fund for Mat's memorial in Montreal. Friends and family came together to throw a celebration worthy and kick-ass enough for Mat's life.
The remaining funds have been put aside to start a memorial fund for emerging young artists. We will open up donations again when the fund is set up and running, but for now please consider donating to the Lefevre Family Travel Fund.
Fireworks for Mat at his memorial:
FEVER FOREVER
À bientôt, Mathieu! Go in peace.